jam tangan casio edifice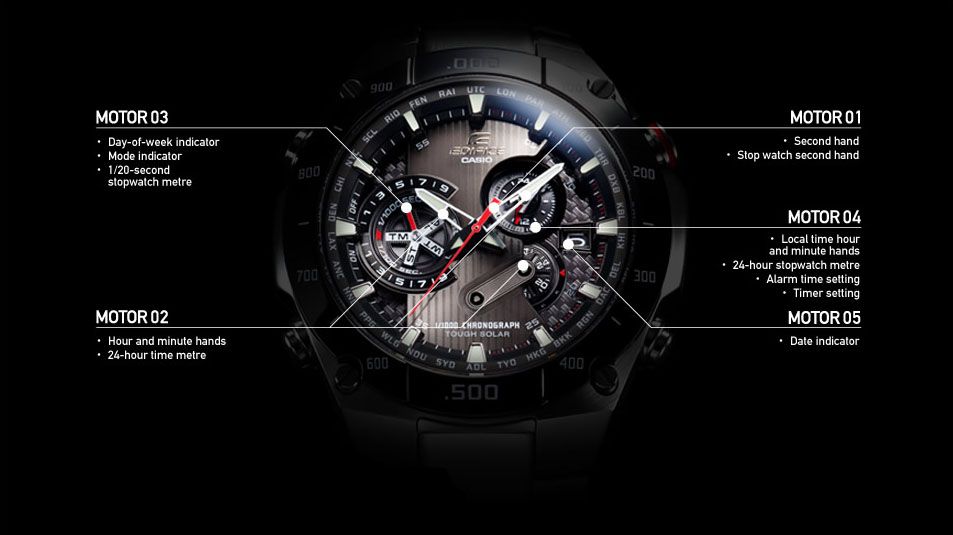 Jam tangan Casio Edifice merupakan salah satu lini jam tangan ekslusif dari jam tangan casio yang mengedepankan desain klasik dan timeless, tapi tetap memperhatikan fungsi dan tekonologi modern. Merek Casio yang memang terkenal dengan produksi jam tangannya, selalu berpaham bahwa jam tangan merupakan perhiasan yang paling sering dipakai untuk melengkapi penampilan seseorang. Maka dari itu, tidak hanya ia harus terlihat bagus, jam tangan juga seharusnya dapat bertahan lama yang nilainya sangat personal.
Casio Edifice telah didesain penuh dengan perhatian sehingga pemakainya selalu terlihat elegan, stylish dan tentunya dinamis. Akan tetapi, hal yang membuat Casio Edifice benar-benar berbeda dengan jam tangan lainnya, adalah teknologi tingkat tinggi yang diusung pada jam tangan casio ini. Teknologi tersebut adalah teknologi 5 Motor Drive dan teknologi Tough Solar.
Teknologi 5 Motor Drive: Jam tangan Casio Edifice memiliki 5 motor penggerak yang dipasang pada masing-masing modul agar performa tiap fungsinya dapat digerakkan secara independen. Teknologi canggih ini melahirkan fenomena baru dalam dunia kronograf multifungsi.
Tough Solar: Jam tangan Casio Edifice tidak memerlukan penggantian baterai, karena jam tangan ini memiliki teknologi tough solar. Dimana baterai tough solar dapat mengisi ulang kekuatan baterainya sendiri melalui tenaga solar (cahaya matahari), bahkan saat berada di bawah cahaya gelap sekalipun.
Model Casio Edifice


Casio Edifice memiliki 5 macam kategori model yang dapat anda pilih. Berikut 3 model terpilih yang menjadi model jam tangan Casio Edifice terpopuler di masyarakat.
A. Chronograph:
Model Casio Edifice yang satu ini merupakan model dengan seri yang paling elegan, klasik sekaligus juga tercanggih, karena ia menggunakan 5 motor penggerak di setiap jarumnya dan juga menggunakan teknologi tough solar untuk batre yang lebih tahan lama.
B.Analog-Digital
Casio Edifice Analog-Digital, merupakan jam tangan yang menggabungkan sistem jam tangan analog dan juga digital dalam satu jam tangan. Seri pada jam tangan ini memang terlihat jauh lebih muda dan dinamis, sehingga lebih banyak diminati oleh kaum remaja.
C. Edifice & Sheen:
Model Edifice Sheen merupakan hasil kombinasi antara model jam tangan Casio Edifice dan jam tangan Casio Sheen. Dimana Casio Edifice merepresentasikan jam tangan yang maskulin, sementara Casio Sheen merepresentasikan jam tangan feminin.


Red bull formula-1 sponsor jam tangan casio edifice


Jam Tangan Casio Edifice sekarang sebagai sponsor utama team F1 Red Bull , anda fans mereka ? silahkan pakai jam ini. Casio dengan bangga mengumumkan mengumumkan perilisan model chronograph baru sesuai bangunan nya jam tangan logam-a serat karbon watchface EF-554SP-menampilkan dengan empat Panggilan inset diatur dalam tata letak tiga-dimensi.
Menangkap esensi kecepatan dan kecerdasan, jam tangan logam bangunan membangkitkan rasa kecepatan dan motor energi olahraga dengan gerakan tangan dan wajah khas jam tangan. jam tangan bangunan sangat populer dengan orang-orang muda, berkat fungsi yang kaya stopwatch dan desain menonjol wajah.
Jam tangan casio edifice memancarkan, berani stand-out gambar, dengan pelat logam double-layer terikat pada watchface serat karbon dengan sekrup. Wajah diatur dengan empat memanggil sisipan dalam desain tiga-dimensi yang sangat unik.
Ini desain dinamis dari watchface multi-tangan memungkinkan pengukuran menggunakan stopwatch pergerakan berbagai tangan. Tangan kecil di posisi 06:00 dapat bergerak bolak-balik untuk mengukur 1/20ths dari kedua sebagai stopwatch mundur, dan stopwatch-tangan di tengah wajah menonton jumlah detik. Tangan kecil di posisi jam 12 jumlah menit, dan tangan kecil di 09:00 jam posisi penting. Untuk mengaktifkan perhitungan kecepatan rata-rata menggunakan stopwatch pengukuran, nilai tachymeter ditampilkan pada panel.
Untuk tampilan biasa waktu, pusat tangan menunjukkan jam dan menit, tangan kecil di posisi 06:00 juga bisa menunjukkan detik, dan tangan kecil di posisi jam 03:00 menampilkan dalam format 24-jam.
Seiring dengan EF-554SP, Casio juga melepaskan-554D EF, yang menawarkan fungsi yang sama dan spesifikasi sebagai EF-554SP tetapi dengan desain bergaya grid pada watchface standar-material.
Casio terus menampilkan teknologi yang superior dan desain yang dinamis garis bangunan nya jam tangan kepada dunia dengan melakukan kegiatan promosi sebagai mitra resmi dari Red Bull Racing F1 ™ tim.
Minggu 21 Agustus 2011 - The Formula One World Champions 2010 dan pemimpin seri saat melanjutkan petualangan off-road di sirkuit dari americas untuk pembuatan video di muka dari 2012 US Grand Prix, yang akan menandai kembalinya Formula Satu ke Amerika untuk pertama kalinya sejak 2007. Dikemudikan oleh 13-kali juara balapan, 2001 series runner-up dan mantan pembalap Red Bull Racing,
David Coulthard dari Skotlandia, mobil balap menghasilkan lebih dari 800 tenaga kuda dan dapat pergi dari 0-60 dalam dua detik. Formula Satu adalah tingkat tertinggi dari balap mobil, yang menampilkan teknologi mutakhir dan penggemar-dasar lebih dari 500 juta orang di seluruh dunia. The Red Bull Racing Formula Satu tim adalah orang pertama yang mengendarai mobil balap di sirkuit saat ini di-konstruksi Amerika di Austin, Texas.
Setting jam tangan casio edifice pada umunmya
Ada 5, yaitu:
1. Tombol "A", terletak di posisi jam 10.00
2. Tombol "B", terletak di posisi jam 15.00
3. Tombol "D", terletak di posisi jam 16.00
4. Tombol "C", terletak di posisi jam 20.00
5. Tombol "E", terletak di posisi jam 13.00.
Setting jam digital dan tanggal
1. Di halaman utama, tekan dan tahan "A", sampai di bagian detik berkedip (indikasi masuk mode setting). UTC-nya di setting dolo oom, biar ga kacau. Kalo Indonesia itu +7 gmt.
2. Tekan "C" untuk milih settingan yang lain:
detik -> dst -> utc -> jam -> menit -> format 12/24 jam -> tahun -> bulan -> hari -> kalibrasi sensor thermometer -> format thermo f/c -> detik
3. Gunakan "D" dan "B" untuk ngerubah setingan.
4. Tekan "A" untuk keluar dari mode setting.
Setting jam analog
1. Di halaman utama, tekan "C" 6 kali, terus masuk ke hand setting mode (H-S)
2. Tahan "A" sampai display jam berkedip, kalo belum berkedip berati yang nahan kurang lama oom :razz:
3. Pakai "D" untuk ngatur jam analog.
3.a. Tekan "D" sekali untuk setting 20 detik.
3.b. Tahan "D", biar jarumnya muter lebih cepet.
3.c. Biar ga pegel, tahan "D" terus pencet "B" biar kekunci (ga cape pencet "D" terus).
4. Kalo dah selaras sama jam digitalnya, tekan "C", dan tekan "A" buat keluar dari mode setting
5. Untuk ke halaman utama, tekan "C"